It's super nerve-wracking to see hundreds of restaurants to choose from, here is where you can find something unique and exclusive to your mouth in 2021. Malaysian are everywhere to find food after the MCO and CMCO is lifted. During the pandemic, we are too stressed out to cook by ourselves and craving for scrumptious western food that we might not be able to enjoy at home. We can see most of the couples are planning their outing. While they find where to eat and what to eat when making plans for their date, below are some recommendation provided by some of the locals. Rockwall Grill & Bistro Western Fine Dining in SS3 is the place to go.
If you are thinking what to eat in PJ? where to eat in PJ? and what food to order.
Rockwall Grill & Bistro @ SS3, Petaling Jaya
A 4-course dinner menu includes a salad, appetizer, main course, and dessert at Rockwall in SS3. This is where the best western food started. The 5-star fine dining experience and superb western food in SS3, PJ. For instance, it's best for couples to have a date night and splendid dinner together.
#1 – Start with a refreshing salad
Balinese Salad
Fresh garden lettuce, onions, olives, tomatoes dressed in spicy and sour mango dressing. The salad infused with all the Malaysian's tropical taste and it tasted amazingly well together for starting the wonderful night together with your partner or spouse.
#2 – Wild Mushroom Soup with a touch of LOVE <3
Cream of Mushroom ALA' Rockwall
Fine Button Mushroom, shiitake finely pureed into the rich soup with a hint of truffle oil to bring the taste to the next level. It's super creamy and satisfying because the texture of the soup can make the garlic bread just warm enough to crunch in your mouth. Moreover, garlic bread is the crunchiest things after the salad.
#3 – Now comes the Lamb Rack <3
Grilled New Zealand Lamb Rack
Lamb rack coated with various herbs and grilled over open flames, paired with vegetables and mint sauce. Juicy lamb rack meant to be tender and merge with the herbs. Best for couples to munch up the entire dish and clear the rack of lambs in minutes. Mint sauce to pair the lamb is just to perfection as the sauces will just add a touch of freshness to the smoky flavour lamb. It makes you to have the "one is not enough that you need two or three". Therefore, make you have enough space in your stomach to munch all the meat.
#4 – Finally the dessert of the night
Valrhona Chocolate Lava Cake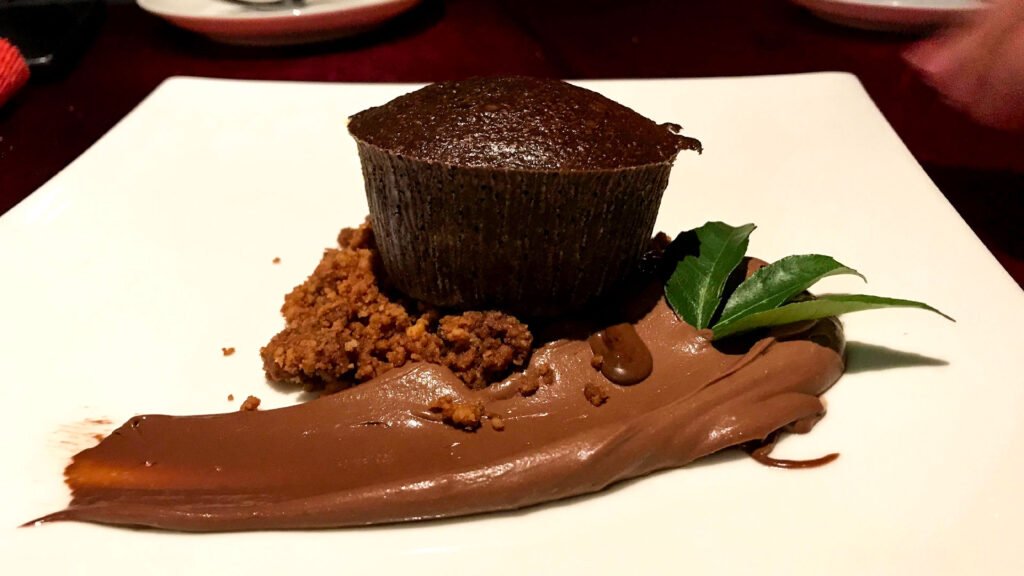 90% Dark chocolate and crunchy crumbs to let you sweeten your day and filled up the last inches of your stomach. Piping hot chocolate lava will oozing out from the middle of the cake to flood your plate with creamy dark lava. Dark chocolate makes the dessert seems perfect as the sweetness of the cake is not too overwhelming.
#Bonus – A Drink to make the night stand out forever
Order the Rockwall's Special Brew
The Razzle-Dazzle
The must order drinks for the night if you wish to stay longer for better conversion with the one you come here with. It's exclusively brewed for Rockwall's customer. With the burst of passion fruit in your mouth and mild tea aroma. After that, you can have your dream taste come true.
Find us behind the Petron Taman University. Finally, Rockwall Grill & Bistro SS3 is just on your left side.

Rockwall Grill & Bistro Western Fine Dining in SS3
Address: Building, 2, Jalan SS 3/31, Taman Universiti, 47300 Petaling Jaya, Selangor
Phone: +60374959066
Website: rockwall.my